You want to know the best way to start the week? Get home late from an amazing trip on Sunday night, pass out in your bed and wake up Monday morning almost an hour after your alarm was supposed to go off. Makes for an interesting start to say the least. Not the best start, but I did manage to shower, get ready and still make it into the office by 8:15am. I despise feeling like I may be late. I really despise the way your heart races and stomach drops when you realize that you overslept. I rarely oversleep. Oh well, it's Monday and I spent the weekend in Colorado. Here are a few pictures from
Instagram
{
follow me
}...
Drinks and appetizers before jumping on our getaway jet!
Hubs and I on the plane ready for Colorado
Rockin' the ping pong table with Courtney at Ace's in Denver
Love that girl!!!
Volcano!!!
Yes, Courtney and I practically finished that ourselves
Saw a legal pot shop for the first time!
LOVE
Saturday morning pancake flight at Snooze in Denver
Checking out the 2nd largest brewery in Golden, CO :)
Coors factory tour! The tour is free and you get free beer at the end...crazy
Exploring Golden
Climbing a mountain Sunday morning with the hubs and my brother
Love the scenery in this state!
Red Rock Ampiteather
Last meal in Colorado, buffalo chili nachos!!! Yummm
I took tons of pictures with my camera that I'll have to upload and share with y'all later! We had a great time exploring Denver and Golden and seeing great friends and my brother! Now this girl has got to get to work...ooops :)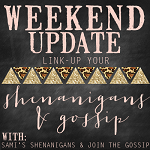 Until next time...
With love and God bless,