I hope y'all had a wonderful Thanksgiving! This girl was MIA because I didn't plan a post nor did I really sit down at a computer all day yesterday. An awesome Thanksgiving recap will come next week. Today I have more important things to discuss...Christmas. What? Yes! It's officially Christmas season which means it is now socially acceptable for me to go overboard on Christmas decor and jam to my Country Christmas or Michael Buble Christmas stations on Pandora. So. Excited. That being said, I have a special treat for y'all today! One of my very best friends, Nicole, has started
her own blog
! You may remember Nicole from
here
,
here
or
here
.
Nicole is a fashionista, some of my favorite pieces in my closet were either gifted to me from Nicole or Nicole saw them while we were shopping and told me I needed it. I mean, just take a look at my gorgeous maid-of-honor dress from
her wedding
! Lucky for me, she has found the perfect outfit for me to wear to a holiday party! Take it away Nikki:
Hey Glimpse of the Gougler readers, Nicole here! What Amy Should Wear to a Holiday Party…
Now now, I am not talking about the kind where you wear your grandma's sweaters. Those have their
time and place, and can be quite enjoyable. But if we are all being honest here, everyone REALLY has a
good time when they know they look pretty.
We all love Amy, and I am sure you have been able to deduce that her favorite color is pink. Always has
been, and I'm pretty certain the color isn't going anywhere for her a while (as far as her wardrobe is
concerned). Therefore, when picking out what I think Amy should wear to a holiday party, of course I
started by looking for something pink. This dress from H&M is perfect. For those of you who don't have
a location nearby, sad day. Houston is now lucky enough to have two, and I hope more come soon.
I also love the feminine detail of the earrings to play well with the delicate lace detail at the top of the
dress. The bows on the shoes also do a nice job of tying everything together. The pointy toes on the
shoes give it just enough edge to keep the look from becoming a little too baby doll-ish. Top it off with a
light pink manicure (I wore this color at my wedding) and lips, and she's good to go.
Happy holiday partying!
Adios, xo. Nicole
--------------------------------------------------------------------------------------
Thanks for picking out my outfit Nikki! Like I told y'all, she really does have some style. I know you're just dying to get to know her better, so please go check out her brand new blog,
Luxe Love
! You know you wanna!
And since it's Friday, don't forget to link up with all our fashion blogger faves!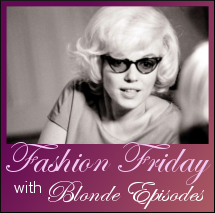 Until next time...
With love and God bless,