Breakfast is by far my favorite meal of the day. Not only is the food the best, but it is the most important for many reasons!
It revs up your metabolism and fat burning ability. Think about it, after 7-8 + hours of sleep, your body is going into starvation mode and needs this nutrition to jump start your metabolism and keep it going all day.
Eating breakfast keeps you from getting strong cravings later in the day which allows you to resist binging.
You need to refuel in the morning! Glucose is what keeps our braing going and allows us to do little things like walking, typing, speeking, etc. When you don't have enough, your body tries to turn fat into glucose which is NOT good.
Make sure you're eating protein and a lot of fiber during breakfast! A lot of sugar won't tide you over for long, so make sure you pack in the protein!
Enough about it's benefits because I could go on and on. All in all, breakfast is a blast :) It's even better when you get to eat breakfast for dinner! I actually enjoy cooking breakfast just as much as I enjoy eating breakfast. Who needs to go to IHOP, Cracker Barrel or anywhere else when you get get awesome pancakes like this at home!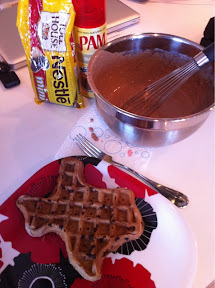 I actually made these the weekend before Vegas but forgot to post them! They turned out too pretty not to take a picture of them! It also seemed fitting to post now since I'm heading back to the Lone Star State next Monday for a week!
I'm not going to lie, I used Heart Healthy Bisquick to make these waffles. They weren't from scratch, but I altered the recipe a little by using apple sauce instead of oil (it worked great!) and I added a little Hershey's cocoa powder and some mini chocolate chips to make them even tastier! The main reason for the extra flair was that JP and I had just finished our 9 mile long run for the week and we both dominated. Something about burning 1,000 calories before 9am means that you deserve chocolate in your breakfast!
Now, fast forward 2 weekends to this past Saturday! We decided on Friday night with Maria that we needed to go down to the Strip for breakfast. Though Maria has lived in Pittsburgh for 3 years and she has been to the Strip a few times, she has NEVER had breakfast down there! There are several different restaurants on the Strip that are all amazing. We decided that DeLuca's was going to be the restaurant of choice.
DeLuca's really does have the BEST breakfast in town! This place was one of Adam Richman's stops on
Man vs. Food
! I completely forgot to take a picture of my meal! It must have been because I was so so hungry. I had the Veggie Scramble with scrambled egg whites, bell peppers, roasted red peppers, onions, mushrooms, potatoes and more. I love veggies so much so this was right up my ally. I love veggies so much that we stopped by the farmer's market after breakfast and I stocked up! Lettuce, zucchini, squash, portabellas, bell peppers and carrots are just a few goods that I scored! I also picked up some kiwi and strawberries for super cheap!

Now it's time for me to figure out what I'm going to coop up with all my goodies! I'm thinking a shrimp and veggie stir fry is on the menu for dinner at the Gougler household! I'll leave you with a picture of my little helper chef!
That's all for now, but I have a great new post up my sleeve and will be coming soon!
Until next time...
With love and God bless,
Amy, JP and Maggie